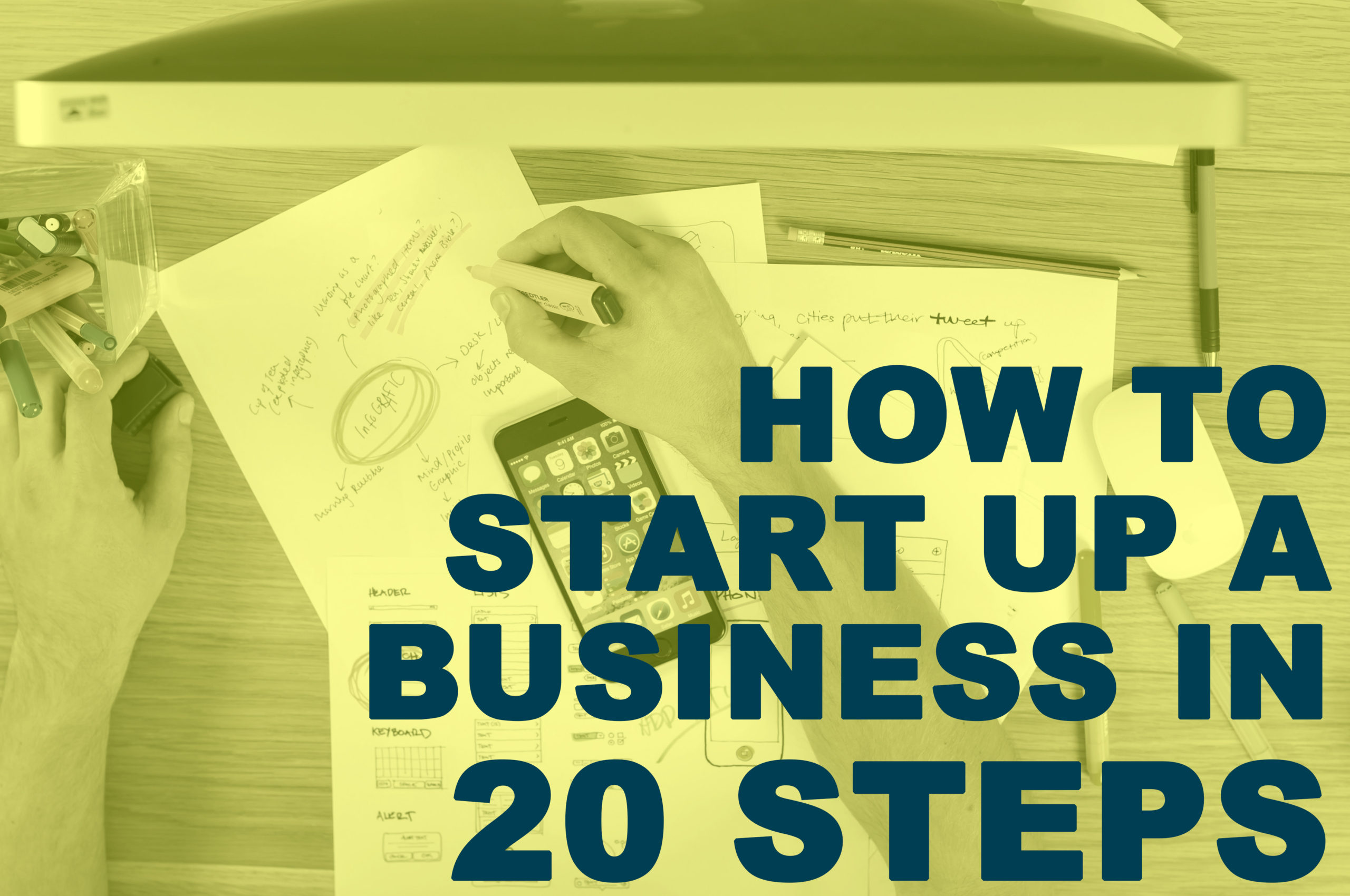 20 Steps You Should Take in Order to Open A Business in 2020
New year, new you… new business? Forget about the failed resolutions jokes and perfect eyesight puns this new year! Instead, focus on how you can achieve your 2020 business goals. Are you thinking about starting a new business? The good news is that it is never too late to open your own store, and the best part is that we will be here the entire time with helpful tips and tricks that you can use to your benefit while starting and growing your new company. At Acumen Connections, we strive to help companies achieve their business goals year after year; and today, we wanted to discuss the process of opening an organization in a way that is easy to understand. Here are 20 steps you should take in order to start a business:
Consider the pros and cons of your product and business idea to determine if it is a potentially successful opportunity. Calculate your breakeven point to know how much you will need to sell in order for the revenue to at least cover the costs. Identify a strong target market that would likely be incredibly interested in spending that amount of money for your product or service. Compare the tactics of other companies in your industry and identify your competitive advantage.



Develop your strategy by fine-tuning your idea and creating a more concrete business plan that will act as a blueprint for your company. You will want to create a profit/loss forecast at this time, and if you do not know how, Nolo has a great article on how to create one. You will need to find money to open your store and cover the high starting costs, so you should start searching for start-up financing. If at any point through your process, you realize you need a few thousand dollars, Acumen Connections offers up to 50K in small business loans. This is great for if you find yourself in a situation where you do not need or want to take out a ridiculously large bank loan.



Research your market more and refine your plan based off of both your defined target market and what is financially affordable. With marketing, you have a friend in Acumen Connections; our blog contains a lot of information and articles on marketing your business at any step of the way, and we feature Merchant Highlight videos on our website and social media to help spread the word about your new company.
Here are some of our most popular marketing-focused articles:
Digital Marketing Tips You Should Know
Why Social Media Presence Pays
Reaching New Customers Through Your Facebook Business Page
Controversy In Marketing



Decide on your business's legal structure by identifying who the owners are, how much personal liability protection you will need, how you want the organization to be taxed, and if you want to be able to sell stock. Pages could be written about all of the different types of ownership structures that exist, so we will just refer you to this great list, instead.



Hire a lawyer, catch them up to speed on your business plans, and explain which legal structure you think is best for you and your company and why. A professional lawyer is worth the investment and will make sure that you are taking all the correct steps legally to start and operate. The Balance has a great article on when you might and might not need a lawyer while starting up your business. Do not be afraid to talk to the paralegal or legal assistant because although they may not be able to provide the same level of support or service, they will likely know more about your organization and current situation than your lawyer will.



There are a few resources to check before settling on a business name, to ensure that it is not already in use. Check to see if an applicable website domain is currently available online for your company's website, confirm with your county clerk's office that the name has not been taken, and then contact the Secretary of State to confirm the same thing. Finally, you will want to check with the United States Patent and Trademark Office website to see if there is a federal or state trademark already on the potential name.



Select your business name, register it with both your County Clerk and Secretary of State, and get it trademarked. Purchase the web address domain name that you want for the company's website. We strongly recommend doublechecking your spelling during every step of this process.



Prepare the necessary paperwork to bring the start up to life. This is likely where your attorney will need to help. You might be able to file some things on your own, like the articles of organization for an LLC, or a few online documents. However, you might need legal help with things like incorporation forms and documents, or other papers.



Determine how much rent you can realistically afford for your business, and identify which fixtures and features your company will need either for a storefront and/or for the manufacturing process. You will need to find a few buildings or areas that are zoned properly for your store to be located, and The Balance has a great article to help you understand this process.



Narrow down your location search to find the best building and neighborhood for you and your business. You will need to discover the perfect area to match with your brand style and target market demographic, as well as making your products or services accessible and in a good spot to compete with other stores like yours. For a brick-and-mortar store, picking a location is almost equally as important as picking which product to provide, since location can have a huge impact on your sales and success. Alternatively, plenty of small businesses operate from homes, so if that is the best option for you, you likely will not need to stress about where your establishment is located. If your company is not a home business, you will spend more time at the office location than you will at your own home.



Finish up the rest of the necessary paperwork to open your business. Acquire the tax IDs, licenses, and permits that are relevant to your organization. Now is the time to set up your business bank accounts, too.



Insurance is important for your start up. Before anyone steps into your office or store, you will want to obtain insurance such as property insurance, vehicle insurance, liability insurance, product liability insurance, homeowner's insurance, health insurance, and disability insurance. Some of these will help protect your company's properties and belongings while others will protect you, your family, your future employees, and their families.



Determine your company's financial system. There is a chance that this step and the next step will ultimately be completed simultaneously. Choose which system of accounting you plan to use, when your fiscal year will start, and how you plan to record accounts payable and accounts receivable.



Invest in small business accounting software, or hire a full-time or part-time bookkeeper or accountant depending on your company's needs as well as your own personal needs.



Familiarize yourself with the general tax scheme for your business structure, and start saving onto the paperwork that you and your organization will require for tax season the following year.



Once you start making some sales, hire a designer to help you make a website, logo, or advertising material for your company. If you are unsure how this process looks, we have two great articles on the topic: How To Design A Logo and Why You Should Work With A Logo Designer.



The next step is determining payment processing for your company. Receiving cash revenue is great, but more often than not, your customers will prefer to pay different ways. How will you accept checks, debit cards, credit cards, online purchases, and more? The good news is that we can help you with all of these payment processing options. We have more information on our products and services here. If you have an online store setup on your website, you will be able to accept payments from more than your immediate neighbors.  



You will need to start hiring some of your team. As much as you may want to be in control of every aspect of your company, you will eventually need to hire help. When it comes to recruiting and Human Resources, we have multiple helpful articles on the subject: 
List of Great Interview Questions
Why Diversity Is Beneficial To Your Team
Why Employee Retention Is Essential
How To Communicate With Your Team 



To improve your sales, you will need to create great rapport with current customers. Word-of-mouth is still the best marketing for any company, and it only happens if you are able to actually help your clients and exceed their expectations. We have advice both on how to retain your current customers and how to help disgruntled customers. Remember to continuously get feedback from your shoppers, as they will be the most resourceful in helping you figure out what needs fixing.



Finally, tell everyone you know about how your experience with Acumen Connections has been and how helpful we were throughout every step of the way. By working together, Acumen Connections will help you and your team find the right business solutions based on your business needs.
Starting a business may seem complex and tortuous at first. Hopefully with the help of this guide and a little bit of research, you should find that it is not as intricate of a process as it seems. It is important to remember that there is no reason to be afraid to ask for help or try something new, because every single successful business owner has been exactly where you are, now. Learn from both success stories and stories of failure, since there is truth to be found in either situation.