The Best MailChimp and Email Marketing Pro-Tips: Improve Your Campaigns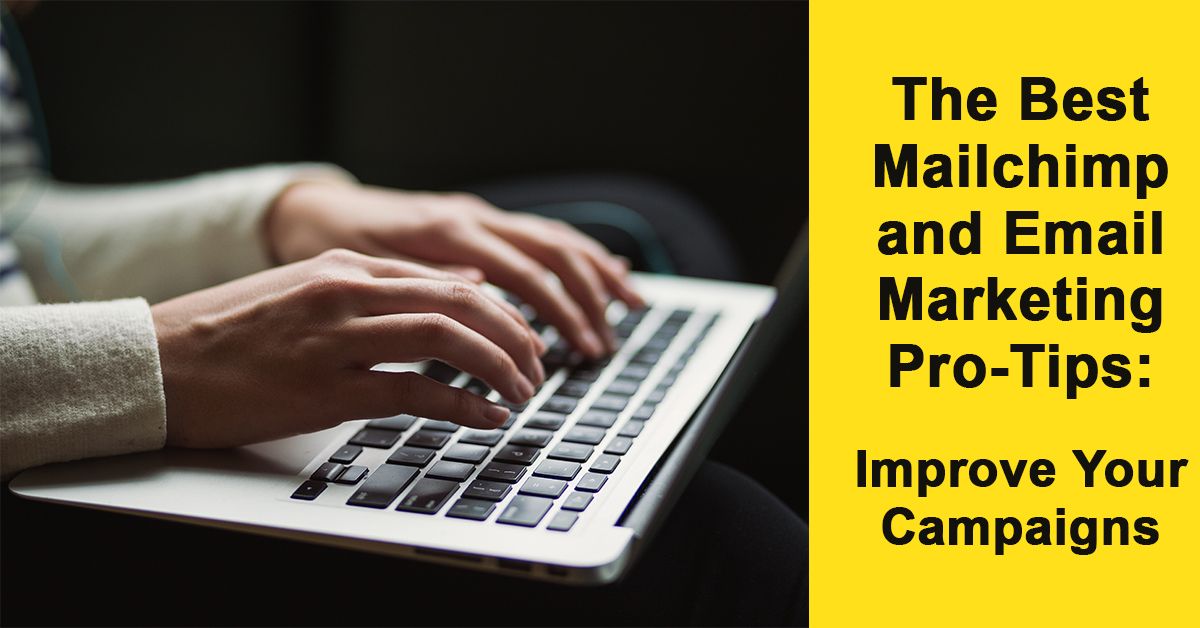 Why do email marketing? Millions of companies are sending out email marketing material. There are a lot of benefits to email marketing. Email marketing, with a service like MailChimp, can allow you to do so much more. Today we will look at everything you need to know about email marketing.
In this article, you will learn about the different options MailChimp has. We will also cover some of the best practices for email campaign. We will look at how to improve design and how to optimize subject lines. This is primarily a beginner's guide to MailChimp. However, this guide has a few details that even semi-experts might learn something new that can help with their campaigns.
Why We Chose MailChimp
MailChimp is one of those programs in the digital marketing world that just makes sense. It is synonymous with email campaigns. There are other programs out there like Constant Contact, Sendinblue, and more. There is nothing wrong with these other programs, MailChimp just happens to be well known. Plus, MailChimp has a free program for smaller businesses. I have used MailChimp, also sometimes referred to as Chimpmail, for many companies in different industries. Today I will be sharing my experience with MailChimp.
With the free program, businesses can get all the MailChimp basics. They can get several marketing channels, 1-click automations, pre-made templates, and more. They can also create and design surveys, as well as landing pages and websites. Companies can use the free plan to send emails to about 2,000 customers. For the price of a streaming service, $10-$15 a month, companies can unlock even more features with MailChimp.
Benefits to Using Email Marketing
Email marketing is a cost-efficient way to leave a lasting effect on customers. MailChimp is rather affordable, sometimes even free. Email marketing allows you to have multiple connections with consumers. There is this rule in marketing that customers need to see your brand seven times before they buy. Once they have seen your brand at least seven times, your brand will stick in their mind more. With emails, you can reach out to potential customers multiple times. Best of all, this form of communication does not feel intrusive.
Emails that instill your brand in the customer's mind improve brand awareness. They can also improve customer loyalty. Some companies use email marketing to provide free resources to customers. Email marketing provides a platform to share blogs and content from your website. Social media is a great platform to send out blogs and other resources you have created for customers. However, sometimes email can work better. Besides just content and blogs, you can also keep your customers up to date. Keep them informed by sending out weekly or monthly newsletters.
Start by deciding what your goal with this campaign is. Of course, your long-term goal is to increase sales, but what is your goal with this specific email campaign? Decide if you are trying to improve customer acquisitions or increase sales. Are you trying to learn more about your customer's perception of your business? You might even be trying to direct customers to a trackable landing page. There is really a lot of options that you have with MailChimp. We will take a moment to look at just a few of them. Below are a few different types of marketing campaigns you can do with MailChimp for free.
Email Capture Campaign
One common campaign many companies start with is an email capture campaign. This campaign is used to find and gain new customers. If you have a small advertising budget, a computer with Wi-Fi, and a few hours, you can get this campaign up and running.
What to know best practices? This type of campaign commonly offers a free item or service. Make sure it is something you can easily and affordably replicate hundreds or thousands of times. This item should not drain resources. You need to offer consumers something in exchange for their contact information. You will also need their express permission to email them, so make sure the freebie is good.  Also, it makes that initial email so much easier to send. Want to get started on this campaign fast? We have an easy 3-step process here: Marketing Basics That Every Company Can and Should Do. 
New Product or Sale Campaign
Another type of campaign is a new product release, or sale. You probably get a few of these emails each week. Companies letting you know what specials they have this week or month. Some companies just tell you that they have new savings this week. Others spice up their emails and make it more fun. Check out our YouTube page in the next week or two. We will show you how to make and send an email like this. The whole guide, from start-to-finish.
Here is the thing with marketing: you have to be there when the customer wants to buy. The easier you make the buying process, the more likely they will buy from you. An email helps with that by providing a link. These sorts of emails have a lot of subject line potential. Customers love seeing the discount in the subject line. If they have been thinking about buying from you, this might be the email that gets them to make a purchase. What would you do if you were considering making a purchase, and then suddenly got a 30% off email for that product?
Blog and Newsletter Campaigns
These are great for companies where they sell an on-going service. For example, an apartment complex might send residents a monthly or weekly email. It might contain community updates and rule reminders. If a company was in the news or an interview, they might use email to share the news. Other companies might send out a blog or free resource to their customers. They have a resource that they thought their customers might like, and so they share it for free. If you came to this blog via an email, then you saw this process first-hand.
There are a few best practices for emails like these. It is important to note that most emails like these will not have the same interaction as other emails. A new product or sale announcement is usually more exciting. You can still make emails like this more interesting though. For starters, decide what type of email formatting you want. Having consistent formatting can help customers be more comfortable. It gives them an idea of what to expect. Make it more interesting by changing up the content that is contained within the email though. You might also consider including coupons. If you are partnered with a nearby company, see if you can offer a deal. You can offer them free advertising, and they can give your customers an extra coupon. "Save 20% on Matt's BBQ – this weekend only!"
Survey and Polls
Want feedback or a review? You can send a survey question or poll to see what your customers think of your products or service. The best advice I can provide on an email like this is to keep it simple. No one wants to answer multiple questions about the same product. I know you want to know exactly how your customers feel about your business. However, the fewer questions you have, the better response rate you will receive. Do not ask more than 3 questions. Having multiple choice questions improves the number of responses but limits the type of responses. Having a place for them to fill out answers decreases the response rate. In return though, the answers you do get are more likely to provide more information. They might also be more amusing responses as well.
Specialized Landing Pages
If you have a campaign and want to track what customers are clicking, use a landing page. You will use this feature in the email capture campaign. It is an easy way to offer them a code or freebie without having to know how to edit your website. You can also use landing pages to learn more about customers. If you have a new app, you can have customers come to a landing page to choose between the Google Play and Apple Store. It will show you if your customers prefer Apple or Android devices. You can learn other details about your customers. For example, a child's clothing store might have a landing page with two links. One link might have info for "first-time parents" and the other link might be for "experienced parents".  This information might show if customers tend to have one or multiple kids before shopping there. It could show the store if they need to target more advertising towards first-time parent groups, or if they should spend their advertising dollars elsewhere.
Email Best Practices
You are going to send out emails, and they are not always going to be opened, or even clicked. The average email open rate is about 21%. The average click rate (or the number of people that follow any link in the email) is only about 2.6%. If you send an email to 100 people, only about 2-3 people will actually click a link. If you are anywhere near this, or even above this, you are doing great! Do not forget that those metrics will change depending on the industry. For example, emails from a government agency will have higher rates. Emails from restaurants will have lower rates. Do not give up if your first few emails do not find success. There are always things you can do to improve open and click rates.
Improve both rates by improving your open rate. That just makes sense. The more people that open your emails, the more people that will click a link. Think of creative and fun subject lines without being spammy. Want a real example? A company decides to send a coupon only to customers that have bought something recently. They do this by sending a specific link via an email. That link that takes that customer to a page on their website that already has the discount in place. They could have the subject line just be "Save money this weekend!" That is boring and no one wants to click that. Or, they can have that subject line be "Your exclusive link to save 40% next time". Suddenly this email is more interesting. They know just how much they can save. They also feel important because this is something "exclusive". The customer feels special.
Make the shopping process super easy. Have the call-to-action button stand out from the rest of the page. No one likes it when they get an email with a special offer but cannot find the link. That is the fastest way to get someone to close out of the email. It is frustrating. Have your call to action button be in caps, and have it be a bright color. You do not want it to look obnoxious. That can be a red flag for spam for some customers. But if you can find a bright color that fits with your brand, you will be good to go.
Proofread your email before sending it. Read it out loud if you must. Spelling errors are a red flag for customers. They might not trust your emails anymore if you have a misspelled word or two. In addition, you will want to check that all your links work. You can use MailChimp to send yourself a test email. Open up that email on your desktop and mobile device to see what it looks like. While you have it open, click on every link to ensure they work correctly and go to the right site. If you have a link-heavy email, it can be really easy to make a mistake. Going back through and double checking can really help. You want to ensure that customers will not get stuck or feel frustrated while reading your email.
Hopefully with this guide, you feel ready to get started with, or improve your email marketing strategy. Always be sure to check your country's specific email regulations before sending your first email. 
Do you use a different email campaign program besides MailChimp? Leave a comment. Let us know your review of it and feedback.