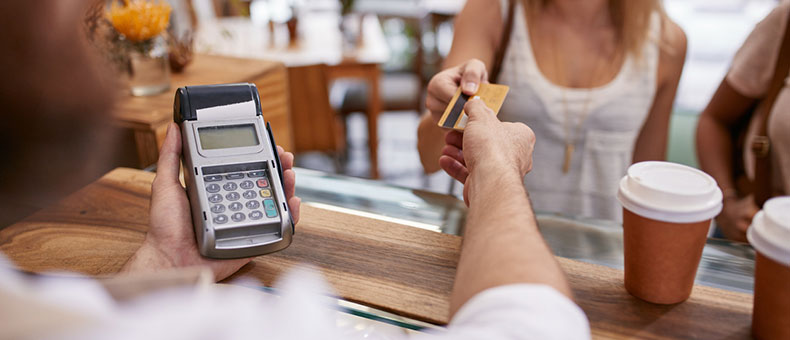 PAYMENT PROCESSING
In today's competitive business environment it is vital that you offer your customers the convenience of multiple payment options. Accepting credit and debit cards can help you maximize cash flow and provide accurate accountability for sales.
As a leading Merchant Services Provider, Acumen is your single source for processing credit and debit cards for retail, mail order/telephone order and internet businesses. We can assist you with selecting the right payment solution for your business. Accept all card types, Visa, MasterCard, American Express, Discover, Diners Club and JCB.
Payment Processing Benefits
– Competitive pricing plan suited to your business
– Competitive POS terminals for retail merchants
– Secure E-Commerce Payment Gateway
– Web-based Transaction Reporting
– Two business day funding of your merchant account
– Complete in-house terminal support and data lookup
How Credit Card Transactions Work
Point of Sale
Credit cards are bank-issued cards displaying a Visa or MasterCard logo linked to a line of credit. Depending on the type of equipment either the merchant or cardholder will swipe the card through a Point of Sale terminal requesting authorization for the sale amount. Once the approval has been received the cardholder will sign a receipt and the transaction will post to the cardholder's account within two to three business days following settlement. When processed, all transactions will be deposited to the merchant's bank account.
E-Commerce Payment Gateway
Our PCI compliant payment gateway will enable the transmission of payment information between the acceptance channels i.e. your website shopping cart, order page or virtual terminal etc. and the authorization network for quick approval of your online card transactions.
How Signature/Pin Debit Transactions Work
Signature Debit
Debit cards are bank-issued cards displaying a Visa or MasterCard logo that is linked to a cardholder's checking account. Like a credit card transaction the cardholder will elect to sign a receipt for the sale and the transaction will post to the cardholder's checking account within two to three days following settlement.
Pin Debit
Occur only at the point of sale and require the entry of a PIN (Personal Identification Number) by the cardholder. A Pin debit transaction will immediately debit the transaction amount from the cardholder's checking account.
….

Full List of Our Services:
Getting Started
Speaking with us about your business needs will allow us to find the right processing solution for you. Contact us at 1-800-864-4644 or email us using the form below to get started right away.