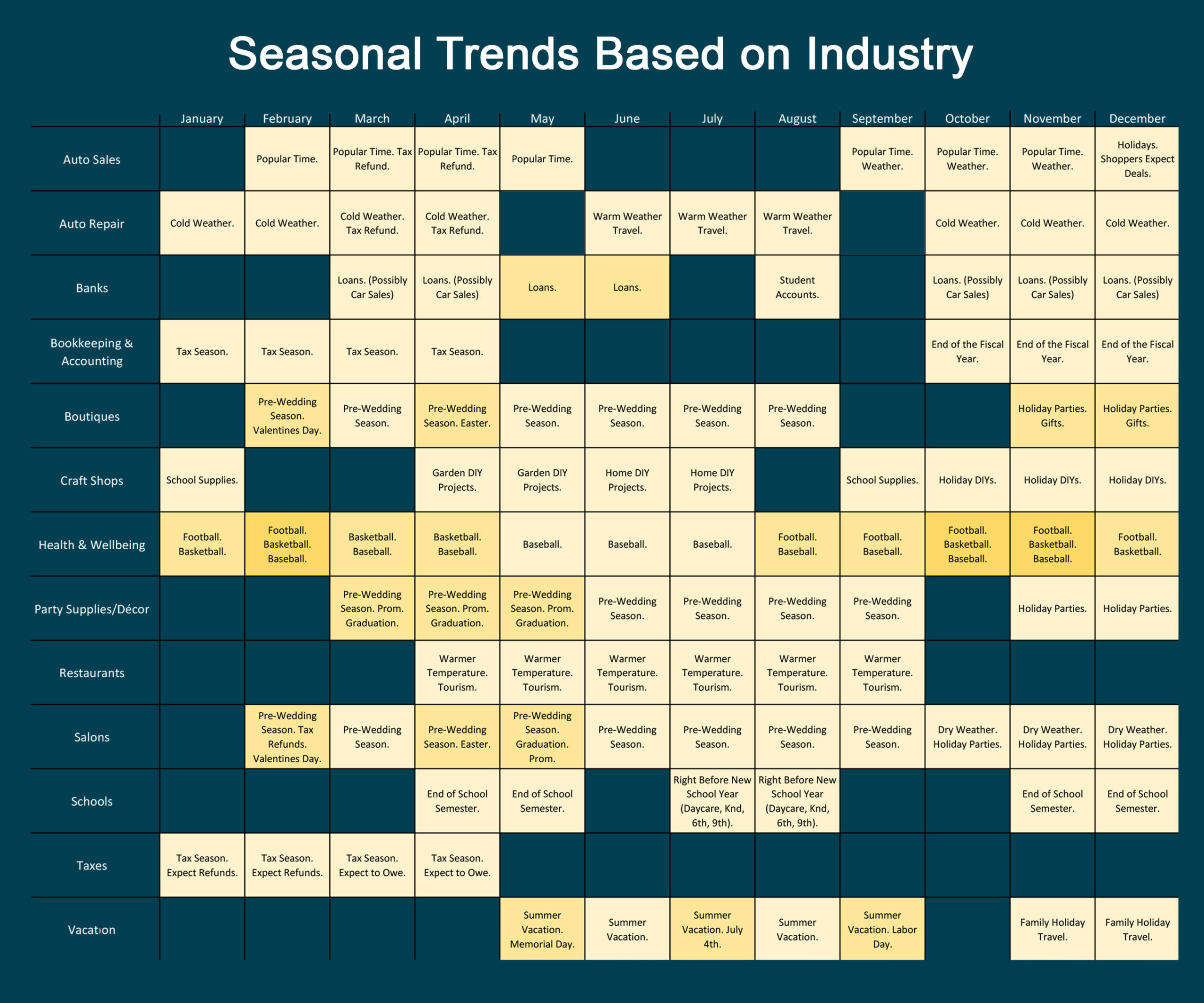 The Right Time to Market Based on Your Specific Industry
At this point, you likely understand the importance of defining your target market for your growing business. You know that you need to understand who your customers are and why they are choosing to buy from your store, instead of the competition's. There are many layers to understanding your target market, such as: age, gender, location, career, lifestyle, and more. Another layer you should consider when reviewing your target market is the calendar year.
Seasonal shopping trends can have a huge effect on customers, by determining when, how, and why they buy products. Some seasonal trends are easy enough to spot, such as an increase in Christmas decoration purchases in the winter or bathing suits in the summer, and some are more difficult to spot, such as the influx in gift card sales from May – June, or how wine sales increase while beer sales decrease in the fall from September – December. Seasonal trends can affect when customers are visiting your store, as well as which types of customers are there. Most retailers know that November and December customers are likely at their store to purchase gifts, whereas January customers are likely at their store to return items.
We decided to focus on 13 industries and some of their seasonal trends. This article might not be complete in listing every seasonal trend that affects your store, but it is still a great stepping stone for you to start thinking about how seasonal trends may affect your industry, business, and shoppers. While reading this list, reflect on how this information compares to your own experience. This information has been collected from a number of industry specific blogs and Google trends research.
When to Promote Auto Sales:
Many new- and used-car dealerships experience an influx in sales from February – May, and again from September – December. Some stores notice that many customers are using their tax refund in March and April as part of their initial down-payment. The winter influx may be because of bad weather, or simply because shoppers expect better rates at the end of the year when they think salesmen are trying to reach an annual goal. December is a popular time to buy cars, but these shoppers are often expecting extreme end-of-the-year deals.
When to Promote Auto Repairs:
The most common car repairs in the winter are for heaters, windshield wipers, and windshield wiper fluid. These repairs tend to be more common from October – March. Some people hold off on car repairs until after they get their tax refund in March and April. The most common car repairs in the summer are for air conditioners and engine cooling fans. With an increase in temperature as well as vacations and road trips in the summer, there is often a third influx from June – August. Consider promoting solutions to common winter issues in the winter months and common summer issues in the summer months.
When to Promote in the Banking Industry:
People need checking accounts and savings account all year-round, but some banks notice that more loans are taken out from March-June, and again from October – December. Although not much information can be found as to what may cause this, it is important to note that these increases are also around the same times that car sales peak. Perhaps there is a connection between car sales and bank loans? Along with loans, student accounts also have a high influx in August when many students start their first year at college.
When to Promote Bookkeeping & Accounting Services:
The most common fiscal year for companies is one that starts on January 1st. During the last few months of the year, many companies are concerned about ensuring that their financial records are in order and that they are producing end of the year reports. These companies are hiring people to work on these reports from October – December. This is often a busy time for 3rd party bookkeeping and accounting companies. In addition, tax season (January – April) is also a very popular time for this industry as businesses need help filing everything for taxes.
When to Promote a Boutique:
It is true that cute clothes can be bought year-round, but there are sometimes of the year that boutiques may find that they are busier than ever. Many people know that wedding season is May – October, but most brides are looking for makeup styles 2-4 months in advance, so stores targeting these brides should be promoting 2-4 months in advance of wedding season. Boutiques may notice more sales are made starting around Valentine's day in February and continuing through August.  Another influx can be found in November and December as holiday shopping rolls in.
When to Promote Craft Shops:
The winter and summer seem to have more people shopping for craft supplies. DIY garden projects become popular from April – May, and DIY home projects become popular from June – July. Halloween and the holiday season are another time that craft stores can see an influx in people purchasing material for DIY costumes, decorations, and gifts. Another time that craft shops might see slightly higher sales is in September and again in January, when schools are asking students to purchase their required craft and art supplies for the academic year.
When to Promote in the Health & Wellness Industry:
Injuries happen all-year-long. But are certain injuries more common during certain seasons? Seasons do not have to pertain to just the calendar year, they can also pertain to a specific calendar, such as a sports calendar. Do you have a lot of patients with sports injuries? You may see an increase in hamstring strains and shoulder dislocations during football season from August – February; an influx of foot and ankle problems as well as hip and thigh injuries during basketball season from October – April; and more rotator cuff injuries, lower back pain, and tennis elbow during baseball season from February – November. Consider targeting people with these specific problems during these specific seasons.
When to Promote Party Supplies/Décor:
Similar to boutiques, wedding season is May – October, but many brides are looking for decorations 2-3 months in advance, so you will need to target them 2-3 months earlier by marketing wedding décor from March – September. March – May can be a very popular time for schools to plan for prom and graduation. You may expect another influx in people shopping for their holiday parties in November and December.
When to Promote a Restaurant:
More people are willing to go out when the weather is warmer, and even more people will be eating out at restaurants if they are traveling. Both of these activities are popular from April – September, so expect an influx of restaurant and bar customers throughout those months. If you are thinking about renovations or testing out a new menu, we recommend doing that during the fall and winter when less guests will be affected.
When to Promote a Salon:
Salons can expect an increase in sales from February – May, with many people shopping around Valentine's Day, Easter, Prom season, and graduation. Since many brides are looking for hair stylists about 4 months out, you might want to target them from February – September. From October – December shoppers may be looking for skin treatments to keep their skin from drying out in the cold weather, and for cute holiday styles for upcoming holiday parties.
When to Promote a School:
Rather than advertising at the start of the school year, consider advertising towards the end of each semester when students are feeling stressed from projects and final exams. This is likely the time that students are reflecting on their choice of school. A starting school, such as a daycare, kindergarten, middle school, or high school could advertise to first year students and their parents during July and August, when parents are already considering enrolling their students in an entirely new school.
When to Promote Tax Filing Services:
You probably know that tax season is primarily from January – April, but you may have better luck advertising the excitement of a tax refund earlier in the year during January and February and then advertising how much you can help someone save on taxes during March and April. This is because many tax representatives have found that early filers are often expecting a tax refund, whereas later filers are often dreading owing taxes.
When to Promote in the Travel Industry:
Many families take extended vacations in the summer from May – September. Some popular times are the days surrounding Memorial Day weekend, the 4th of July, and Labor Day weekend. Many families also travel during the holiday season to visit extended family. Of course, airlines and hotels can benefit from these vacationers, but so can pet resorts, restaurants, and even family entertainment activities.
Looking to understand more about your shoppers? Social media and many of the other platforms your company is currently using for marketing purposes, such as your email campaign or website, likely have a ton of analytical information on your customers. In addition, there are a ton of free tools to help you determine who your shoppers are. Business Insider has a map with the 11 different cultures in the US. Esri has many tools and maps that can help you understand your neighborhood and customers a little bit more, but one of their best tools is their zip code map, which provides a snapshot of your consumers' lives depending on which zip code they live in. Google even has Google Trends which allows you to compare key words and phrases that have been searched over the last year, by city, state, country, or even the whole world. Hopefully with this advice you will be able to better target potential customers in the future.